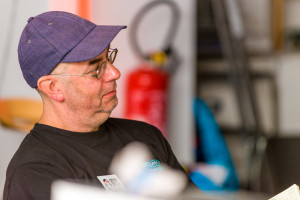 Chris calls himself a Geek2NonGeekInterface, meaning that he is often "translating" between the two populations, promoting the creative use of digital and networked devices while helping users maintain privacy. He frequently facilitates workshops and speaks about privacy and security from a very practical, hands-on perspective.
His work is highly focused on surveillance, censorship & privacy issues along with digital literacy, simplifying the complex to reach as wide an audience as possible. He co-founded the Chokepoint Project, a non-profit project that collects, analyses and reports on data relating to network neutrality and civil rights in the digital domain.
As part of his drive towards including privacy, security and creativity into more mainstream areas, Chris recently co-founded Playfair Training, a learning and development company that combines soft skills, digital literacy and technical awareness training for the workplace.
He carries out further digital literacy programmes for schools/young people through DigitalLiteracy.Lu, is a certified trainer on safe Internet use to kids and teens for BEESECURE and worked with BEE CREATIVE to introduce makerspaces into the public school system in Luxembourg. He is co-author of the new BEESECURE for Schools training programme.
Chris is currently working on CryptoParty for Kids and a pan-European response protocol on digital stalking. He is available for presentations, workshops, consulting and content creation on any of the above topics.
Blog: cataspanglish  Twitter: @cataspanglish  PGP: 0x2C3196C5